Epiphone Guitars
Epiphone guitars are affordable replicas of Gibson guitars. They are affordable, and are a great choice for 1st-year & 2nd-year guitarists.

Les Paul Standard Guitar
Classic chrome humbucking pickups deliver big slabs of the fat warm tones; transcontinental sustain; and deep, soulful distortion that made this guitar famous. Crafted with an alder/mahogany body and carved maple top, 22-fret rosewood fingerboard, cream body and fingerboard binding, and chrome hardware. Limited lifetime warranty.
Features:
Mahogany/alder body
Carved maple top
Rosewood fingerboard
Chrome-covered humbuckers
Cream body and fretboard binding
Chrome hardware
Limited lifetime warranty
Rating: 9.26
Price: $499-599

SG-400
A Gibson-authorized version of their great '62 SG with solid mahogany body and slim-taper mahogany neck. Separate volume and tone controls for each of the high-output humbuckers give you complete control of your sound. The deep double cutaway lets you reach all 22 frets with ease. Limited lifetime warranty.
Rating: 9.17/10
Price: $499
G-1275 Double-Neck Custom Electric Guitar
Made famous by Jimmy Page -- now available at the most affordable price ever! Create airy and full drones by setting the neck selector switch to the mid position and activating both necks at the same time. Or tune the 12-string to an open or chromatic tuning to produce sympathetic drone tones. Features 2 guitars in one: one 12-string and one 6-string maple guitar neck on a single body, and includes 2 covered "Patent Applied For"-style humbuckers. Also includes double parallelogram inlays and binding on both necks. Limited lifetime warranty.
Rating: 8.55/10
Price: $899





Epiphone Guitars cont.

1967 Flying V
The Flying-V body style has become a heavy metal classic, retaining its popularity over decades. This Epiphone re-creates the classic '67 version. It has an alder body, 24-3/4" mahogany neck, dual open-coil humbuckers, and a stopbar tailpiece. A simple yet deadly weapon.
Features:
2 open-coil humbuckers

Chrome hardware

Alder body

Mahogany neck

24-3/4" scale

1.6875" nut width

Rosewood fretboard

Dot inlays

Stopbar tailpiece
Rating: 9.17/10
Price: $399

1958 Explorer
Based on the '58 Gibson design that ushered in the space age! The 1958 Explorer features a 24-3/4"-scale maple neck with rosewood fingerboard. 2 humbuckers give it its rock 'n' roll voice, with one tone and 2 volume knobs and a 3-way switch for shifting from rhythm to high-altitude leads. Limited lifetime warranty.
Rating: 9.51
Price: $499

Noel Gallagher Archtop Union Jack SuperNova™ Electric Guitar
A few years back, Oasis guitarist Noel Gallagher had a Union Jack flag custom painted on his Epiphone Sheraton. Now Epiphone presents, for the rest of us, the Noel Gallagher SuperNova with the same custom British flag paint job, Noel's signature, and all the great SuperNova features. 2 Alnico V Epi '57 classic pickups, a maple neck with split parallelogram inlays, a laminated maple body, and chrome hardware. Quantities are limited, so get one while you can. Limited lifetime warranty.
Rating: 8.59/10
Price: $719





BC Rich Guitars
BC Rich Guitars are great guitars for the starting metal guitarist. A big name in metal guitars, BC Rich Guitars should be replaced within a couple of years of playing.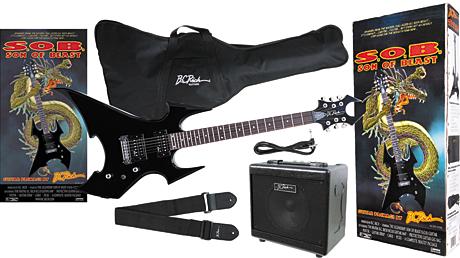 Son Of Beast Guitar Pack
The S.O.B. -- meaning Son Of Beast -- takes the classic Beast guitar body and headstock and reduces the size by 10-percent but retains the full 25-1/2" scale.

The pack includes the Bronze Series S.O.B. guitar and a B.C. Rich BCL-10 amplifier with 12W power, built-in distortion, headphone jack, and the Widow® headstock shape embossed into its sides. Accessories such as a protective gig bag, strap, cable, and picks have you ready to rock right out of the box. The pack also includes a poster depicting the artwork from the front of the display box.
Features:
Classic Beast design reduced by 10%

B.C. Rich BCL-10 amplifier

12W power

Built-in distortion

Headphone jack

Embossed Widow® headstock shape on side

Gig bag

Strap

Cable

Picks

Poster
Rating: 8.44/10
Price: $349

Bronze Warlock Guitar Pack
A single humbucker at the bridge with volume control gives you a surprising amount of tonal versatility in a dead-simple guitar setup. Constructed with a basswood body and a bolt-on maple neck, this Warlock also features double truss rods for ultimate precision in neck adjustment, a rosewood fretboard with pearloid dot inlays, a knurled chrome knob, tremolo, and a graphite nut. Comes with a gig bag, strap, and picks.
Features:
25-1/2" scale
Bolt-on hard maple neck
Double truss rod
Rosewood fingerboard
White pearloid dot inlays
24 frets
Basswood body
Knurled metal dome knobs
Covered tuners
Jumbo frets
Non-locking tremolo
Graphite nut
Single humbucker
Gig bag
Black nylon strap
Guitar picks
Rating: 8.70/10
Price: $129